Disaster Mitigation for Lynn Homes from a Local IICRC-Certified Firm
11/8/2020 (Permalink)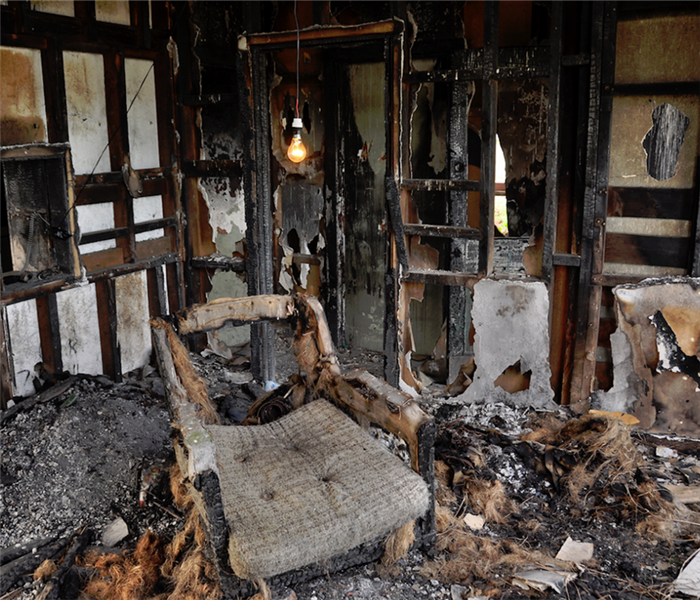 When fire affects your home, team SERVPRO can help. Contact our certified technicians for fire damage remediation services.
SERVPRO of Lynn / Lynnfield is a Phone Call Away from Returning Fire-Damaged Homes in Lynn to a Pre-Loss State
Lynn, Massachusetts, founded in 1629, is among the largest cities in the Commonwealth and one of the oldest. Today, this integral part of the Greater Boston area is best known for its unique combination of contemporary art and historic architecture. This city's gradual shift from an industrial powerhouse to a cultural landmark in the Commonwealth makes for a unique history.
Local offerings for the over 90,000 residents of Lynn include a diverse array of activities and venues such as:
The Grand Army of the Republic Museum on Andrew Street, a military museum constructed in 1885 with exhibitions dating from the American Revolution through the Korean War
The winding trails of Lynn Woods, a sprawling forest reserve packed with both flora and fauna that nature lovers are sure to enjoy
The Lynn Auditorium, which regularly hosts big-name performers. Upcoming performances in late 2020 and early 2021 include The Irish Tenors, Christopher Cross, and Brian Culbertson
This historic city got its start as an English settlement shortly after the founding of Salem. The town initially got its name from a similarly-named market town in England, originally known as Bishop's Lynn, until being renamed to King's Lynn in the sixteenth century.
During this colonial period, Lynn was most renowned for its shoe-making and tannery, which focused on leather goods. To this day, the city seal features a colonial boot that is evocative of its history with shoe manufacturing. In the nineteenth century, this focus expanded into dozens of factories and several tanneries opening to accommodate the demand for shoes and leather goods.
Lynn's booming shoe industry allowed entrepreneurs to invest in electricity through such companies as the Thomson-Houston Electric Company, which would merge with Edison Electric to form General Electric before the end of the nineteenth century. GE started as a manufacturing hub for various electrical components before expanding into aircraft engine manufacturing during the Second World War.
The First and Second Great Fires of Lynn
Unfortunately, Lynn has experienced several large fires throughout its history, including a 3-alarm fire in a three-story house on Chestnut Street in May 2020. In particular, two fires have left indelible marks on the city almost a century apart from one another.
The Great Lynn Fire of 1889
On the afternoon of November 26, 1889, a fire ignited at Almont and Oxford Streets that spread rapidly, eventually destroying Central Square and decimating Lynn's business district. This fire spread incredibly quickly due to the prevalence of wooden structures. While no serious injuries or deaths were reported, the local economy took a significant hit.
Over 100 buildings were destroyed by the fire
Losses incurred were totaled at over $5 million at the time, or over $164 million today
According to The Boston Globe, on the following day, buildings on several streets were destroyed
Commercial losses included over 150 factories, over 120 houses, 80 shoe manufacturers, four banks, and three newspaper companies
The Second Great Lynn Fire of 1981
The 1970s and 1980s were hard on Lynn, as the city endured many large fires, the most disastrous of which occurred at a shoe factory on November 28, 1981. This fire required the assistance of a whopping 94 communities from Rhode Island, New Hampshire, and Massachusetts to extinguish.
Damages incurred included an estimated $80 million of property loss to seventeen downtown properties. The affected area on Washington and Broad Streets has since been redeveloped into loft apartment buildings and a satellite campus of North Shore Community College. While the fire was later determined to be an arson, no suspects were convicted of the crime. The only associated charge was for perjury committed in a federal court.
Lynn: A City of Resilience
In the early 1990s, while on the road to recovery from several major fires in the past decade, marketing for the city shifted to focus on the city's achievements, which included:
The first ironworks, tannery, fire engine, and operable electric streetcar in Massachusetts
The birthplace of Lydia Pinkham, the first woman in advertising
Home of the United States' first dance academy
The early 2000s saw a shift from industrial districts to revitalizing historic districts into cultural centers. Revitalization efforts are ongoing, focusing on converting former industrial complexes into mid- to high-end lofts. These efforts have led to downtown Lynn being formally recognized as an arts and culture district by the Massachusetts Cultural Council.
SERVPRO of Lynn / Lynnfield's team has extensive training and certification in fire damage cleanup and restoration. The faster these tasks are performed by licensed professionals, the more quickly communities can be safely restored to a safe and comfortable condition.
How Does SERVPRO's Fire Damage Cleanup Remove Smoke Odors from Lynn Homes?
SERVPRO technicians are licensed to render fire and smoke damage cleanup for Lynn properties with industrial-grade mitigation tools and EPA-registered antimicrobial solutions that sanitize spaces and kill odors.
Smoke odors, fire damage soils, and protein residues can contribute significantly to persistent odors in your home. SERVPRO Odor Control Technicians (OCTs) use a variety of deodorization methods to address these soils, including:
Removing unsalvageable, odor-causing debris from the property
Manually dislodging loose soot deposits with agitating tools
The use of sophisticated technologies like hydroxyl generators and HEPA filter air scrubbers
Abrasion cleaning with soda ash, which offers a certain degree of deodorization
Time-release odor control pellets and counteractant beads
SERVPRO's Institute of Inspection Cleaning and Restoration Certification (IICRC) training allows local teams to service your property according to restoration industry standards 24 hours a day, seven days a week.
SERVPRO of Lynn / Lynnfield has an emergency response team on standby to make your home look and feel, "Like it never even happened." Call (781) 593-6663 to begin the restoration process within hours of your initial contact.